The NBHC conducts the New Brunswick Hospital Patient Care Experience Survey to evaluate the quality of hospital care provided to New Brunswick patients. The purpose is to inform citizens on the quality of hospital care in the province, as well as to help decision-makers and planners improve how they manage hospital services and provide them with the needed benchmarks to flag gaps and highlight accomplishments.
The survey is completed by medical, surgical and maternity patients, 18 years of age or older with at least one overnight stay, discharged from a New Brunswick acute care hospital during the reference period. For the 2019 edition of the survey, the reference period is from December 2018 to March 2019.
Areas of care covered
The areas of care covered by the Acute Care Survey include:
Admission process
Cleanliness
Communication
Coordination of care
Cultural values
Discharge/transition
Emotional support
Food quality
Information about condition and treatment
Involvement in decision-making
Language of service
Overall satisfaction
Pain control
Quietness at night
Responsiveness
Safety
Visiting hours
Hospitals included in Acute Care Survey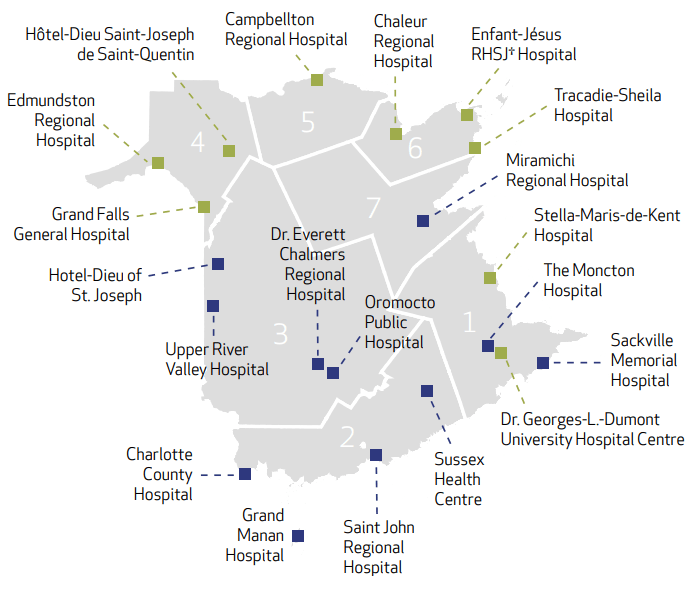 ​
Results
Results are presented for New Brunswick, Horizon and Vitalité Health Networks as well as participating hospitals. Results are also available by gender, educational level, age group, preferred language of service, race/ethnicity and for immigrants.
2019 Edition of the Acute Care Survey
In 2019, 6,201 hospital patients responded to our survey. (43% response rate)
2016 Edition of the Acute Care Survey
In 2016, 6,733 hospital patients responded to our survey. (46% response rate)
2013 Edition of the Acute Care Survey
In 2013, 4,768 hospital patients responded to our survey. (45.5% response rate)
2010 Edition of the Acute Care Survey
In 2010, 5,371 hospital patients responded to our survey. (50% response rate)
Download questionnaires