Council Member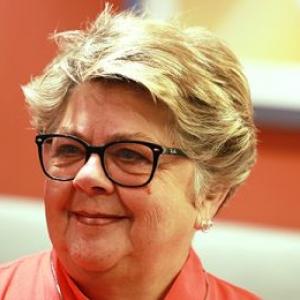 Rita Labrie is a nurse by training; she graduated from the Bathurst Nursing School in 1969 and was then hired at the Dr. Georges-L.-Dumont University Hospital Centre in Moncton. In 1973, she obtained her Bachelor of Nursing. She began her career in public health in the Kedgwick/Saint-Quentin area, first in public health, as a nurse, and from 1978 on, as director of nursing at the Hôtel-Dieu Saint-Joseph hospital in Saint-Quentin.
In 1988, Mrs. Labrie begins a Master's degree in Public Administration, which will be completed via distance learning. Then, in 1993, she takes the position of Coordinator of standardization for Policies and Procedures for the new Region 4 Hospital Corporation. Two years later, she became Director of Nursing for the same employer, and in 1996 she returned to the Hôtel-Dieu Saint-Joseph in the position of Facility Director. She finished her career working in Fredericton from 2000 to 2002, as a clinical auditor for the Department of Health.
For the duration of her career, her great interest in health care pushed her to get involved in numerous professional activities locally, provincially and nationally. It's with a sense of accomplishment that Mrs. Labrie retired in 2002. In 2005, she returned to her roots in the Acadian Peninsula and has since been volunteering for the well-being of her community.