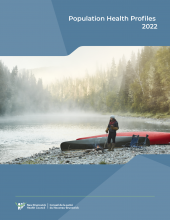 The New Brunswick Health Council's (NBHC) Population Health Profile provides an overview of the health and well-being of people who live, learn, work and take part in activities in each community of our province. 

This tool is designed to help citizens and decision makers develop a shared understanding of the unique realities lived in each community and can be used to foster collaboration toward a common vision of informed, engaged, and healthier New Brunswickers. The profiles are available for the 33 communities and the 7 health zones of New Brunswick.

Each profile was created by analyzing information from more than 400 population health indicators, available in the Population Health Data Tables. The information included helps us understand how healthy the citizens in our communities are today (health outcomes) and what factors influence their health and well-being (health determinants).  
You can find out which Health Zone or Community you belong to by following these links:
Health Zones
NBHC Communities